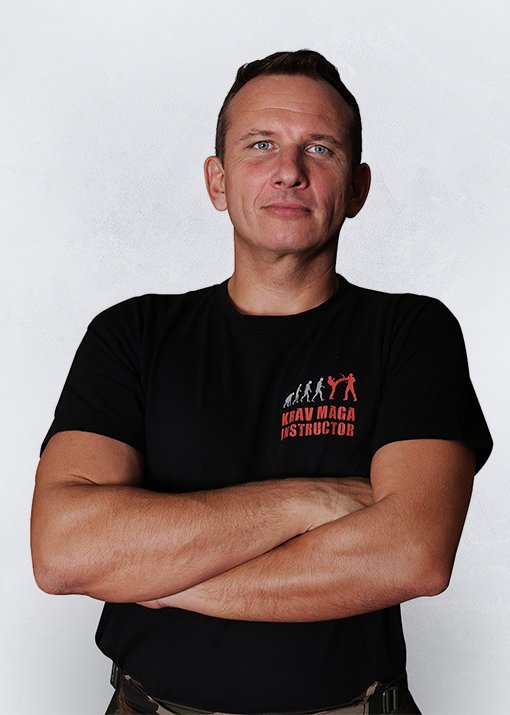 Carsten Draheim
Carsten has been training martial arts and self-defence since his childhood and is also a close combat instructor for soldiers in the German Armed Forces appointed by the Ministry of Defence and a service provider in this field for the police of the state of NRW. As an S.W.A.T. instructor he trains members of the military, security and police forces internationally.
Qualifications
Lead Instructor Krav Maga Institute
Military instructor
Civil Krav Maga Instructor
Law enforcement instructor
KIDS Instructor
S.W.A.T. instructor
Team Leading and Combat Community Instructor
Fighting & Selfdefense Skills
Kickboxing
Jeet Kune Do
Luta Livre
Krav Maga since 2006
MORE ABOUT MY PERSON
Carsten Draheim, born 1975 in Cologne, Germany, is a Krav Maga trainer and author of the book "Krav Maga – effective self-defense" which was first published in December 2015 and is currently available in its third edition. He is also a regular contributor to various military and police journals.
As a civilian, he teaches members of police and military units as well as normal people in daily self-defense training. He is also the owner of the KRAVolution Krav Maga Institute, which with currently about 1700 members and over 3000 square meters of own training area is one of the largest Krav Maga providers worldwide. In his book, he reveals all of his many years of experience and knowledge, as the only German-language teaching supplement to Krav Maga training to date. His book deciphers the system of Krav Maga and breaks it down into its components, instead of limiting itself to the presentation of techniques, and gives instructions for teaching this originally Israeli self-defence system. While the first German publication of the book was supported by the former Krav Maga Association, to which the author belonged, the further distribution of his knowledge in printed form and especially the publication of the book in English language was forbidden by the association, because they obviously feared that secrets of Krav Maga teaching would become accessible for everybody and especially for trainers of other martial arts and self-defense systems. The first edition of the book was sold out after 2 months. The book has now been published in English for the US-American market.